The 15 most memorable moments in Seasons 1 to 8 of Game of Thrones
Game of Thrones is lying dead and buried in the rubble left by Season 8's all-out carnage. If you're having withdrawal symptoms, re-binge the entire series on Showmax, making special note of these best moments, game-changers and full-on GoT craziness that helped make it the biggest show on the planet.
**Spoiler alert: There are many.**
1

Robert Baratheon and Ned Stark talk about war (Season 1 episode 1)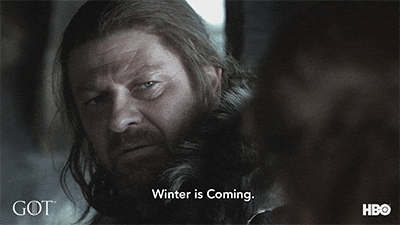 Listening to King Robert lament over his dead wife Lyanna, Ned's sister, he is ready to wage war against the Targaryen family for killing his beloved. And while Ned is his best friend, he hates that the light of his life "has been stuck" in the crypt of Winterfell since she died.
This entire series is about one family of tyrants and a kingdom's desire to slay them.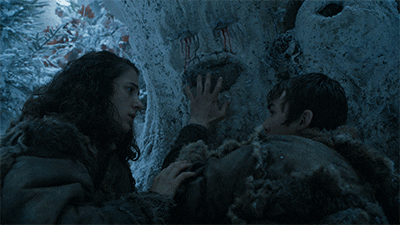 Ned Stark has been keeping a secret for all of his bastard son Jon's life – and it really is about who his mother was.
Hint: she wasn't some tavern wench named Wylla, the ruse that he used to keep King Robert quiet. Not so much of a bastard after all…
3

Sam and Gilly discover the truth about Rhaegar Targaryen and Lyanna Stark (Season 7 episode 5)
The truth driving Robert against Daenerys Targaryen is that Dany's big brother Rhaegar raped and murdered Lyanna.
Except that's a lie. Sam and Gilly, while reading in the citadel library, discover that Rhaegar and Lyanna were married, that they were in love… and that they had a legitimate son who is heir to the Iron Throne.
Having been told he was a bastard (and treated as such) his entire life, Jon is told his true name by his best friend Samwell Tarly: "You are Aegon Targaryen, heir to the Iron Throne, sixth of his name."
Brownie points if you spot the statue of Jon's dead "dad" Ned in the background – all the way back in Season 1 episode 1, Ned told Jon that the next time the see each other, Ned would tell Jon about his mother. This was the first time they'd "been" together since then.
Sheer madness: these scenes got everyone talking… but not always for the right reasons
Fire cannot harm a dragon – the sigil of House Targaryen. Since Dany's brother Viserys clearly wasn't "the dragon" he ranted about during the season, should we be all that surprised when Dany rises from the ashes of her hubby Khal Drogo's funeral pyre covered in soot and ash but otherwise unharmed?
Okay, so crazy brat-king Joffrey Baratheon was an utter piece of trash. Besides being the product of incest, he's a horrid child, a wimp, a ninny and out-right vile little beast.
And while we can overlook him ordering soldiers to fight to the death for his birthday celebration (he is King, after all), murdering Ros was simply uncalled for.
7

Bran flashes back to the Mad King (Season 6 episode 6)
Part of the Targaryen legacy is the Mad King, Dany's dad King Aerys ,who sat on the Iron Throne and used dragonfire to burn his enemies – it's like nitro-glycerine, mixed with petrol and a match is thrown on it.
It's the only time that we see the Mad King throughout the series and that brief glimpse is enough to show that the Targaryens cannot be allowed to rule Westeros ever again.
8

Incest twins Jamie and Queen Cersei die (Season 8 episode 5)
They've shared a womb, shared a room and now they'll share a tomb. They brought shame on their family by secretly having kids (Joffrey, the little bastard was one of them!) and Jamie tried to kill Bran Stark in episode 1 when he spotted them getting down and dirty.
And while Jamie has grown and developed and become likeable over the seasons, he is broken and a bad man – he returns to his beloved sister-lover's side in King's Landing, and while trying to escape under the city, they are caught in the castle collapsing and die in each other's arms.
Bloody good entertainment: GoT isn't for the faint-hearted. Love the blood and gore? It's here! In buckets
9

Khal Drogo gives Viserys his gold crown (Season 1 episode 6)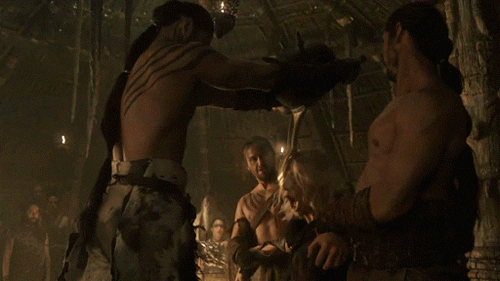 Viserys Targaryen has been ranting about his army and crown since episode 1. That's why he sells his sister Daenerys as a bride to warlord Khal Drogo.
But after ruining Khal and Dany's pregnancy party, Viserys gets his crown of gold when Khal melts all the gold he can find and empties it on Vissy's head, killing him instantly.
Ramsay gives Joffrey a run for his money as the vilest character on the show. He takes pleasure in capturing, torturing and brainwashing Theon Greyjoy for fun… and information about the oncoming Stark army. His real act of cruelty is snipping Theon where it hurts most – his legendary willy that has had its way with every wench in Winterfell.
And he's not done – he also makes Theon watch as he rapes his bride Sansa Stark, whom Theon served as a young lady of Winterfell, where he lived as Ned Stark's squire.
The Hound goes on the run with Arya Stark and they make their way to a tavern. What do you do at a tavern? Drink ale, get into fights and eat chicken. No, really.
As vile as he is, The Hound is pretty funny in the bluntest, C-word-spewing way possible. And watching him tell his new assailants that he's going to eat every c***t's chicken after killing them is too good to miss.
The Clegane brothers The Hound and The Mountain are monsters of men, literally and figuratively. And Ser Gregor "The Mountain" Clegane is the worst.
His ruthlessness knows no bounds. Which is a problem for Prince Oberyn Martell, who wants revenge for The Mountain raping and murdering his sister years earlier.
Shame, Oberyn should've made sure that The Mountain really was dead before gloating over his body – those giant hands are literally strong enough to crush a man's skull… which he proceeds to do. That squishing sound will linger in your head.
Bastard Jon Snow has given his life to The Night's Watch on The Wall. He's celibate, will have no children, has no family and will always wear black.
But his becoming lord commander doesn't sit well with the other Night's Watch. It's so sad when he's lured outside of his quarters and stabbed by each of his "brothers", leaving the man who has the potential to make the entire show bleeding to death at the end of the episode.
But where there's a will, there's a Red Witch who knows how to bring people back from the dead…
Special mention to these two scenes that'll have you bawling among the bloodshed
The sweet little girl is used as a sacrifice by Red Witch Melisandre to guarantee Stannis Baratheon victory in his war.
Seeing those flames engulf her and hearing her screams as she burns is enough to send Stannis's war-hardened soldiers cowering and crying. Terribly sad.
The Starks have been served by well-intending bumbling man-mountain Hodor since he was a boy. The only word he says is "Hodor", his name.
That's until Bran has another flashback during the episode as they flee The Night King, showing a much younger Hodor suffering a seizure back in Winterfell. At the same time, Hodor is told to "hold the door" as Bran and Co escape, which goes from "hold the door" to "hodor" during past-Hodor's seizure.
You will cry. You. Will. Cry.